The ATV-14 Splash- Enjoyable swimming and fitness with enough room to party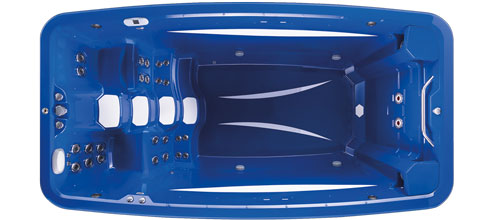 ATV-14 Splash – 14′ Swim Spa
If you're a water enthusiast who wants a less intense (mild) swim, stretch, soak, or splash then the ATV-14 Splash is the vessel for you! The Splash operates off of a single 160 GPM / 606 LPM dual-speed pump for a more relaxed flow for your aquatic activity. It is equipped with a single swim tether point and a resistance rowing option to provide versatile activity or relaxation for your lifestyle.
The ATV-14 Sport- Professional swim training and conditioning with reduced length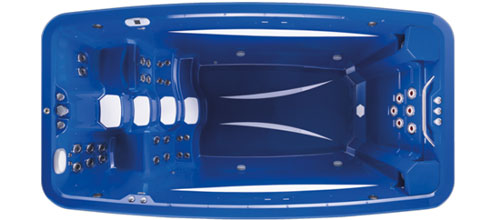 ATV-14 Sport – 14′ Swim Spa
Designed to fit into a relatively smaller area, the ATV-14 doesn't skimp on features or benefits. With a true 4 foot of water depth you can stand up submerged in water and exercise away! Plus even tall swimmers will get the workout they desire. Butterfly, breast stroke or freestyle your way to fitness! Plus the ATV-14 will look great in your space.
The ATV-17 Sport: Professional swim training and conditioning for vigorous workouts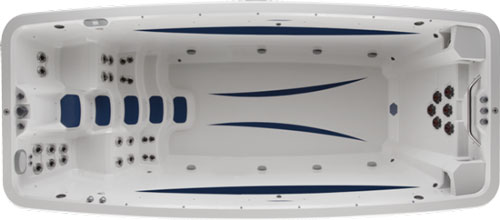 ATV-17 Sport- 17′ Swim Spa
If you're looking for the same resistance for rigorous workouts that the ATV-14 Sport offers, but want an expanded swim and workout space, the ATV-17 Sport is the vessel for you! It has more versatility for your swim and workout needs with an extra 3 ft. / 91.4 cm of length and 5 in. / 12.7 cm of depth (53 in. / 135 cm total water depth) than the 14 model. The ATV-17 Sport still includes 3 dual-speed pumps (160 GPM / 606 LPM) to create a flow rate of 480 GPM / 1,817 LPM to deliver swim workouts.
The ATV-17 Kona: Top of the line EXTREME swim and conditioning training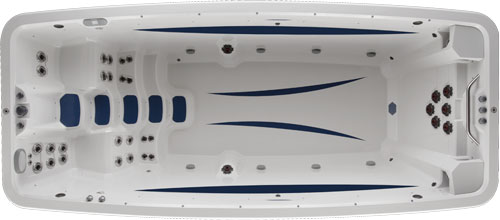 ATV-17 Kona – 17′ Swim Spa
The innovative Kona exclusive Whitewater-4™ jets provide a wall of water to maximize your swim pace options and workout rigor. Class 4 white water is known as 'advanced' in the outdoor sports world. With Whitewater-4, you will feel the flow difference…for real! The Kona's exclusive system design actually uses the Whitewater-4 jets to deliver water flow beyond the volumes created by the pumps, delivering up to 39% more flow than comparably sized jets available anywhere else in swim spas.
The V150 Swim Spa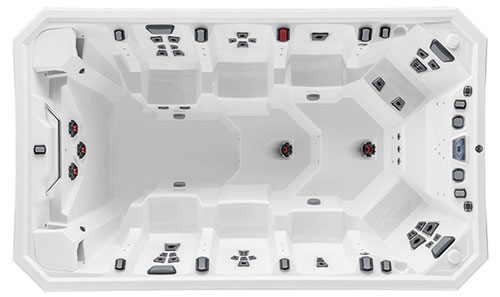 V150 Swim Spa
Spacious, powerful, and versatile — Aquatic Training Vessels™ by Marquis® deliver the ultimate swim spa experience. Made in the USA and engineered to perform in a variety of aquatic scenarios, from intense training, to gentle conditioning and fitness, to stress-free relaxation and playtime. ATV™ adapts to your fitness level and goals, whether you are an athlete, outdoor enthusiast, or simply love the water and want a fun place to relax. Get the portability of an above-the-ground pool, the endless swimming of a lap pool, and the hydrotherapy of a hot tub all rolled into one.
The V150W Swim Spa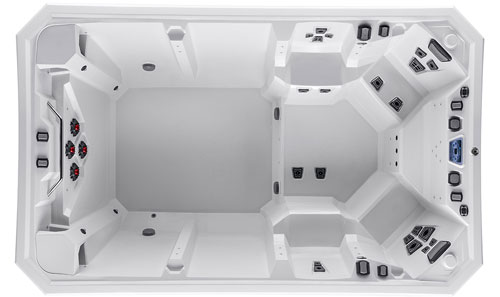 V150W Swim Spa
Marquis'® V150W Swim and Workout Vessel has all the attributes of the V150, with the focus on providing ample space to swim, row, jog, cycle and workout. It's a personal aquatic multi-use gym, perfect for any age and fitness level. V150W features four Whitewater-4™ jets in the swim end and 21 Jetpods in the therapy end.
Four massage seats with enormous therapy benefits, including two lower Jetpods for foot and leg massage, offer room for the whole family.