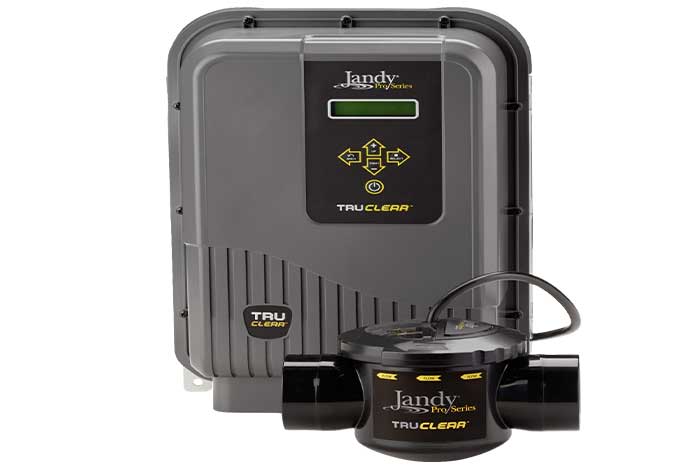 TruClear® Salt Chlorinator
Simple, Reliable Saltwater Chlorination The Jandy TruClear Salt System was designed from the ground up to be simple to own and maintain without sacrificing performance or reliability. It can also be controlled from a smart phone using the iAquaLink™ app when combined with AquaLink® Automation Systems. Features include durable Jandy Never Lube Valve construction, a compact design for easy integration in most equipment pad configurations, and a transparent window for quick visual inspection of blades. The energy-efficient TruClear also works at extremely low-flow rates making it fully compatible with variable-speed pumps.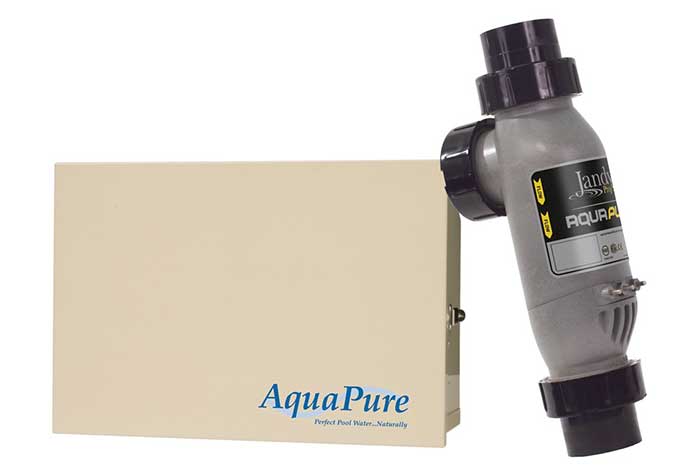 AquaPure® Salt Water Pool System
Create a Saltwater Oasis in Your Backyard The Jandy AquaPure® salt-water chlorine sanitizing systems use salt water to deliver high-performance water sanitation with uncompromised performance, reliability and hydraulic efficiency. Rely on its sturdy design and simple features to create your saltwater oasis.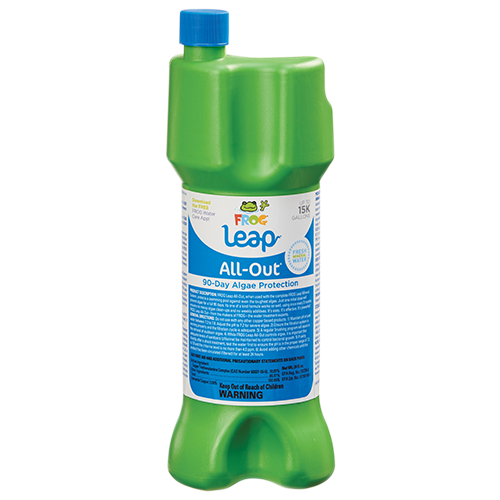 Pool Frog© Chlorine Reduction Mineral Water Sanitation
POOL FROG© provides a reliable way to have fresh, clear, clean water in your pool with the use of minerals and a small amount of chlorine that makes the water feel softer. Pools using Frog typically use 50% less chlorine than non-Frog pools. The pre-filled chlorine containers are recyclable when empty. Additionally, the use of the POOL FROG© reduces the need to physically touch the sanitizing chlorine product; it allows the user to set a dial to determine just the right amount of chlorine sanitizer for use in the pool
Ozone
Ozone use is becoming more prolific as a booster device that will reduce the requirement for Chlorine to be used in swimming pools. Pools equipped with ozone units report a 24% to 75% reduction in chlorine demand. Ozone is short-lived, generally completely depleted within five minutes of introduction into the pool, but is highly effective in killing all unwanted pathogens in the water which come in contact with the ozone gas. Ozone is over 1000 times more effective at oxidizing bather waste than chlorine. The need for additional chemicals such as scale inhibitors, clarifiers, algaecides and degreasers are reduced substantially or eliminated in some cases and thus saves money! Overall maintenance time is decreased as well.
Ultra Violet Water Sanitation
Helps control bacteria, algae and other microorganisms from forming in the water with the use of shortwave ultraviolet light. Ultraviolet water purification allows the user to substantially reduce the chlorine usage and provides a more pleasant swimming experience with the reduction of the amount of free chlorine in the pool water. We have installed commercial units as far back as 1985. Recent innovations have created cost effective residential systems and are available for installation.