YOU HAVE QUESTIONS – WE HAVE ANSWERS!
We know you have many questions to consider before moving forward with designing and building a pool. Our experienced team of professionals are standing by to answer any questions you may have that are not covered below. Feel free to contact us with any additional questions you may have.
What kind of warranties and guarantees do you provide?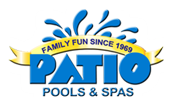 More than you'll ever need! You'll have warranties from the manufacturers of the products we use and also guarantees from Patio Pools -guarantees and warranties on our work, on the products we use, and on the timetable we give you. The fact is, you have our name on everything, which means if there's a problem with anything, anything at all, you don't have to contact a manufacturer or supplier, you just call us. After all, we did the pool build and you should expect us to make it right. We will. Period.
Why are some pool companies so much less than other companies?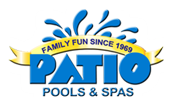 Some pool companies can advertise lower prices because they're giving you a lesser product. You might not be able to notice inferior quality for a few years, but there is a difference. These "cheaper" pool companies use cheaper materials, transient and often poorly trained crews, and lower quality mechanical equipment and cleaning systems. They skimp on the amount of concrete and reinforcing steel bars in the pool shell and they build a less substantial deck. There are lots of ways for them to save money and build you a "cheaper" pool. But in the long run, it's not cheaper at all. Poor quality is always, sooner or later, expensive and a mistake.
The fact is, a Patio Pool will be the best quality and the best value, at any budget. If you want to save money, we'll show you how, but we won't build you an inferior pool. We never have.
Can I finance the cost of the pool?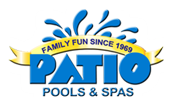 Yes. Patio Pools has many financing options that will help you get the pool you want for the monthly budget you have. Interest rates are surprisingly attractive right now, so this is a good time to consider financing your pool. See our financing page for the details on financing options available. GO NOW
Is there much maintenance with a swimming pool?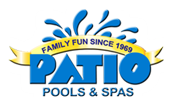 Like every mechanical device, a swimming pool needs to be cared for and maintained. But it's not complicated. Today's cleaning systems are very low-maintenance so you just need to follow a few simple steps to keep your pool clean, clear and safe. When we finish your pool, we'll outline a complete pool care program. It's something you can do yourself easily enough, but if you'd like us to take care of it for you, we can do that. We have a service department that will take care of everything – cleaning, brushing, chemicals, maintenance – for a small monthly fee. Call our service department at 885-6723 and ask about our different service plans.
What options are available when building a swimming pool?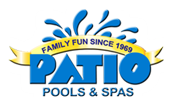 You'll have plenty of choices – size and shape, decking material and design, pool interior finish, cleaning and filtering systems, heating systems, landscaping, steps and swim-outs and lights, rock work, spas and fountains – whatever you can imagine, whatever you want, we can build. We'll explain all the options to you and help you make the choices that are best for your family and your budget.
Do I have to design my own swimming pool?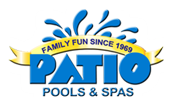 No, you don't. Your input is critical but our designers can design the pool for you as part of our service. Patio Pools has more than 12 Design Consultants who have created every imaginable kind of swimming pool – from simple, basic pools, to elegant, high tech, award-wining pools that will take your breath away. A Design Consultant will meet with you, talk to you, walk the site and make sure that the pool that's designed and built for you does exactly what you want it to do – in appearance and function. After all, this is your pool. Our job is to give you what you want.
How much do swimming pools cost?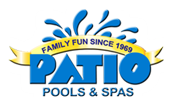 The cost of a swimming pool varies tremendously but is largely a factor of the choices you make – the size and depth of the pool, the decking, the interior finish, lighting, and landscaping. And there are some factors beyond our control such as construction equipment access issues, and the availability and cost of any special materials we need to build your pool. The good news is that you can control most of the costs and whatever you spend, it will increase the value of your home.