YOU HAVE QUESTIONS – WE HAVE ANSWERS!
We know you have many questions to consider before moving forward with purchasing a spa / hot tub. Our experienced team of professionals are standing by to answer any questions you may have that are not covered below. Feel free to contact us with any additional questions you may have.
Do I need special electric for your spas?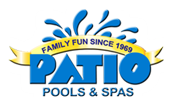 Yes & No, There are many different options when it comes to spas. Some have certain electrical requirements, and some can work off your existing electrical connections in your house. This question is best addressed after you have chosen the right spa for your needs.
How much does it cost to run per month?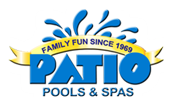 On average, it costs anywhere from $6 – $16 per month for electricity, chemicals, and other items depending on the type of spa and frequency of use. If the spa is used every day, the cost would be a little more than someone who uses the spa 3 times a week.
How long does it take to get the spa delivered?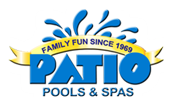 This again depends on which spa we are talking about. If it is one of our floor models or "in-stock" spas, we can have it delivered in a matter of days. If we are making the spa custom for the customer, it can take anywhere from 2-4 weeks, depending on options and site approval. All of our deliveries are done according to the City, State, & Federal codes, so you know when Patio Pools delivers a spa, it has been done 100% right.
Why should I buy a spa from Patio Pools & Spas vs. the other guys?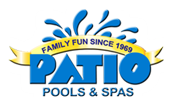 Patio Pools & Spas has been the trusted name in Pools and Spas for over 45 years and has the expert advice to help when you need it. Patio Pools has 3 locations serving all of Southern Arizona. We offer Free water testing, wide variety of parts & cleaners, chemicals, swimwear, a service department, pool cleaning, renovations, and anything you can think of that has to do with Pools and Spas. Plus, you get a local dealer that cares about the community and recognizes that our customers are not just our customers; they are our neighbors.