NOTE: We can only deliver to Tucson & Sierra Vista
Add Patio Pools and Poolwerx items to your cart for home delivery or pickup.
Get $10 Off on Orders Over $100- Use PATIO as your coupon code during checkout.
Online Store Only.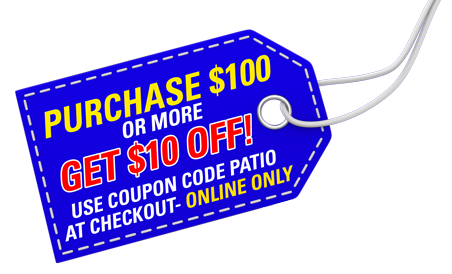 LIQUID CHLORINE- 4 PACK- GALLONS WITH CONTAINER

Hasa Sani-Clor (commercial grade) is a 12.5% sodium hypochlorite solution for use in the treatment of water in swimming pools and hot tubs. When introduced into a swimming pool or hot tub it is immediately available to destroy algae, bacteria, viruses, and other microorganisms.

NOTE: An $8.00 container deposit is included in your purchase and will be refunded once all containers are returned to a Patio Pools location.
If you are going to be picking up your items at one of our stores- please note the stores below for your closest location. You will be asked which store you want during ordering.
22nd & Pantano-Tucson
Address: 7960 East 22nd Street
(520) 886-1211
Hours:
M-F: 8:00 am – 6:00 pm
Sat: 9:00 am – 5:00 pm
Sun: 10:00 am – 4:00 pm
Oro Valley
Address: 7918 North Oracle Road
520-797-2299

Hours:
M-F: 9:00 am – 6:00 pm
Sat: 9:00 am – 5:00 pm
Sun: Closed
Sierra Vista, Arizona
Address: 1160 E. Fry Blvd.
520-458-9291

HOURS:
M-F: 8:00 am – 5:00 pm
Sat: 9:00 am – 4:00 pm
Sun: Closed