NOTE: We can only deliver to Tucson & Sierra Vista
Add Patio Pools and Poolwerx items to your cart for home delivery or pickup.
Get $10 Off on Orders Over $100- Use PATIO as your coupon code during checkout.
Online Store Only.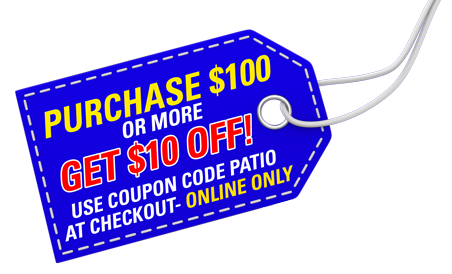 18″ GRIT BRUSH

Single hand, easy push design for less strenuous brushing motion. Brush design keeps it clinging to the pool surface helping to cut back on time and effort. Cutting edge bristle technology. Endcaps help get into hard to reach corners. Magnetic pick-ups help capture metal objects that could otherwise leave stains on pool surfaces. Fits Stinger and all standard pool poles. Speed Lock connection system for extra strength and durability. Retail ready, clamshell packaging.
If you are going to be picking up your items at one of our stores- please note the stores below for your closest location. You will be asked which store you want during ordering.
22nd & Pantano-Tucson
Address: 7960 East 22nd Street
(520) 886-1211
Hours:
M-F: 8:00 am – 6:00 pm
Sat: 9:00 am – 5:00 pm
Sun: 10:00 am – 4:00 pm
Oro Valley
Address: 7918 North Oracle Road
520-797-2299

Hours:
M-F: 9:00 am – 6:00 pm
Sat: 9:00 am – 5:00 pm
Sun: Closed
Sierra Vista, Arizona
Address: 1160 E. Fry Blvd.
520-458-9291

HOURS:
M-F: 8:00 am – 5:00 pm
Sat: 9:00 am – 4:00 pm
Sun: Closed